Thank you so much to every one who linked up last week! I was a bit shocked, but very happy at the response to the first This or That Thursday. I enjoyed seeing all your photos last week and can't wait to see what you're sharing today!
I decided to go back about a month and share photos from the last day of our vacation. We visited the coke museum in Atlanta on our way home from the mountains. I've always wanted to go because I'm such a fan of diet coke.
We learned about the history of the drink. It was invented by a pharmacist in Atlanta in 1886. Oh, and we learned that coke's best selling drink is none other than diet coke. I'm not surprised.
The best part was getting to taste unusual soft drinks from all over the world. My favorite was this green drink that was pear flavored.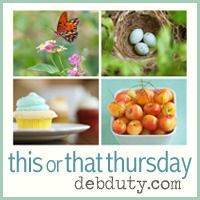 There are just a few rules.
submit the url of your blog post, not your home page

link up a photo that was taken by you

include a link back to my blog in your post (you can use the button or a text link if you prefer)

visit a few other blogs and leave comments
Okay, now let's see what you've been doing with your camera!