Hey guys! If you haven't already heard, I want to let you know about the new photo link up I'll be hosting here each week starting tomorrow.
I had been thinking for a while that it would be fun to host a photo link up. I love visiting blogs because I get so much inspiration from seeing what everyone else is shooting. And I thought of an idea...
A photo link up where you can post any photo you want - portraits, macros, candids, still life, landscapes or whatever you come up with each week. So there will be no themes... just lots of awesome photos!
The linky will open every Thursday morning and remain open until Saturday night.
Since you can link up whatever you'd like, I came up with the name This or That Thursday. I even made a button.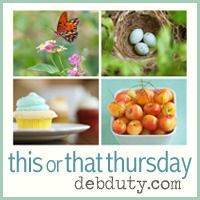 So grab the button code and come back tomorrow
to link up your photos!
There are just a few rules -
submit the url of your blog post, not your home page

link up a photo that was taken by you

include a link back to my blog in your post (you can use the button or a text link is fine too)

visit a few other blogs and leave comments
That's it! See you tomorrow!
And be sure to check out My Reflection of Something today for the edit me challenge. I'm the guest judge this week and I can't wait to see what everyone comes up with for my leaf photo!