We had a little bit of rain last week so I headed outside to capture some water drops. It's harder than it seems. Every time I would find a nice fat one, it would drip off before I had a chance to get it in focus. Here are a couple of the ones that stayed still long enough to capture.
I got really close to the tiny berry for this one so the depth of field is miniscule.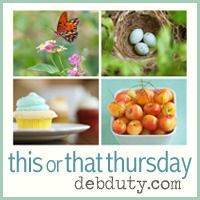 It's time to link up again! There are just a few rules.
submit the url of your blog post, not your home page
link up a photo that was taken by you
include a link back to my blog in your post (you can use the button or a text link if you prefer)
visit a few other blogs and leave some comment love
Okay, now let's see what you've been shooting!