It's been a busy week with little time for taking photos so I was glad I had my camera with me when I took Mason for an orthodontist checkup. These little bees were buzzing around the mexican heather outside the office so while he was inside, I was trying to capture one of these guys. I took a lot of bad, blurry pics. I should have been using a faster shutter speed. I was shooting in aperture priority mode and I didn't notice that my shutter speed was ranging between 1/60 and 1/100. The former was way too slow for moving bees and the latter was cutting it close. I lucked out and captured these two in a moment when they were sort of still. Next time I want to get closer... I'll probably end up getting stung eventually, but if I get a good shot, it'll be worth it!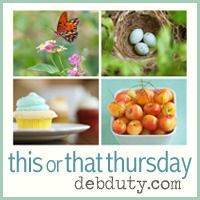 It's time for you guys to link up again! Here are the rules.
submit the url of your blog post, not your home page
link up a photo that was taken by you
include a link back to my blog in your post (you can use the button or a text link if you prefer)
visit a few other blogs and leave some comment love
Okay, now let's see what you've been shooting!