Our Christmas Eve included a new activity this year. I purchased a gingerbread kit for the first time ever. I wasn't sure if the boys would be interested in putting it together, but they agreed to do it.
It looks like they're having lots of fun, but that's mainly due to them picking on each other about their decorating skills which weren't too good I must say...
They succeeded in getting it put together with a little help from me.
And then I discovered their ulterior motive. About two seconds after it was done they were ready to eat it up...
I had to move fast to get a photo because before too long the little gingerbread house looked like this...
As it turns out they don't taste quite as good as they look so there was a bit left over when they were done with it.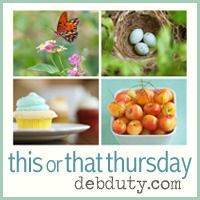 Now I'm excited to see what everyone is linking up this week! If you are new to this or that thursday, you can check out the rules here.
Okay, let's get going! Just link up your post below.