Although we don't get below freezing too often in south Louisiana, we did a have a chilly 27* morning a few days ago. I was inspired to brave the cold by these gorgeous frost photos shared by Christina last week.
The first one was taken when these little green weeds were still in the shade.
Then the morning sun started shining right on us and the light got a bit prettier.
And the frost began to melt...
It's amazing what you will find all around you, if you just look very closely! These were all taken with my 100mm 2.8 macro lens at apertures of f/11 or f/13.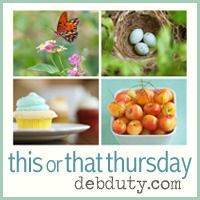 Now it's your turn to share what you've been up to with your camera! There are just a few rules.
submit the url of your blog post, not your home page
link up a photo that was taken by you
include a link back to my blog in your post (you can use the button or a text link if you prefer)
visit a few other blogs and leave some comment love
Okay, just link up below!