Look what I found blooming...
Every single year I find a new type of plant or shrub or tree that I've never ever seen before. You would think after all these years I would have noticed everything, but there's always something new. This one is called a tiawan cherry tree.
By the way, even though I've been on facebook for years, I've never really embraced it. I've decided to give it a try. It'll be more fun if I'm friends with some of my blog buddies! Click right here to go to my profile if you want to be friends!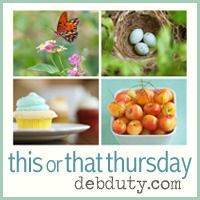 Okay, now what did you find to capture this week? I can't wait to see! Here
are the rules.
submit the url of your blog post, not your home page

link up a photo that was taken by you

include a link back to my blog in your post (you can use the button or a text link if you prefer)

visit a few other blogs and leave some comment love
Okay, now let's see what you've been shooting!