I don't have a lot of really old things. I try not to keep a lot of stuff because I don't like clutter, but I still manage to fill up every available spot in my closets.
This is an old jar that belonged to my grandmother.
And this is the afghan she made me when I was 10 in 1976.
One of the many reasons I love photography is the old photos that help us to remember the things we loved from long ago even if we don't still have them. I'm enjoying all the finds that I'm pinning to my vintage goodness board and there are still lots of things I'd like to find for it.
I really loved Mrs. Beasley when I was little. I don't mind that I no longer have her, but I'm so glad I have this pic from a vacation in 1972 that includes my favorite doll.
I have no idea why my favorite doll was an old woman...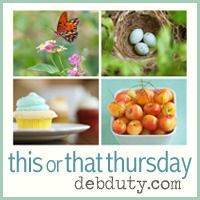 It's time for you to share your photos again! There are just a few rules.
submit the url of your blog post, not your home page

link up a photo that was taken by you

include a link back to my blog in your post (you can use the button or a text link if you prefer)

visit a few other blogs and leave some comment love
Okay, now let's see what you've been shooting!