I've been taking a bit of a break from my canon lately, but I did bring it with me to the park this week. I took some pictures of my three year old niece swinging. I'm sure you know it's not the easiest thing to photograph. I was trying to find an angle with the best background, and trying to get her in focus while still blurring the background as much as possible.
This one was my favorite.
I shot in aperture priority mode with my 50mm lens set at f/2.8, iso 100 and ss 1/1600. I used the ai servo focus mode (continuous servo on nikon) which is great for moving subjects because it continually tracks the focus as your subject moves.
My all time favorite swinging shot was of her brother when he was three. I love that happy face even if it is kinda blurry since the focus fell on the crocs.
This one was taken back when I still had my pentax with my 50mm at f/2.0, iso 200 and ss 1/200. And it was during the time of day when the light is the prettiest just a little before sunset as opposed to the middle of the day like the one above.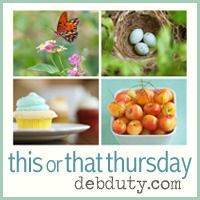 It's time, once again, to link up your photos with this or that thursday. There are just a few rules.
submit the url of your blog post, not your home page

link up a photo that was taken by you

include a link back to my blog in your post (you can use the button or a text link if you prefer)

visit a few other blogs and leave some comment love
Okay, let's see what you've been shooting!