Last year I put a really pretty red glass hummingbird feeder in my tree and waited. The hummingbirds never came. Then I looked online for some info and discovered that hummingbirds prefer the basic plastic feeders that have been around forever. They found this one the same day I put it up and I've been enjoying watching them from my window ever since.
This is the one that hangs out here all day. He's a ruby throated hummingbird, but when he tilts his head to drink you can't see his brightly colored neck as well.
When he's not drinking he sits in the tree watching over his territory so he can chase away any other little birds who try to get a drink.
These were taken with my 200mm lens and I did crop them a little. I'm hoping I'll be able to get a little closer next time.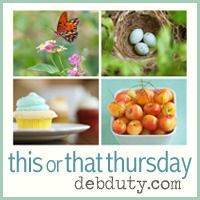 It's time to link up your photos again! There are just a few rules.
submit the url of your blog post, not your home page

link up a photo that was taken by you

include a link back to my blog in your post (you can use the button or a text link if you prefer)

visit a few other blogs and leave some comment love
I'm going to start naming my This or That Thursday posts with the subject of whatever I'm sharing so it'll be easier to find a specific old post when I want to. You can still share whatever you'd like each week!
Okay, now let's see what you're sharing this week!