Remember the caterpillars from last week? They are no more. They have each turned into a chrysalis. The first two are hanging underneath a brick window ledge and the third is happily becoming a butterfly inside his own little home.
First they hung in a J position for a day.
Then the chrysalis started to form, and I mean it happened fast! About an hour after I checked and saw the caterpillar still in a J, I went back and found the partially formed chrysalis.
And just a little while later, they looked like this. I think they're such a lovely shade of green.
Their chrysalides eventually became solid green with a touch of beautiful gold accents. They haven't changed much in the last week.
This is #1...
and #2...
and #3 tucked away in the bug habitat.
The chrysalides are exquisite just like the monarch butterflies they will become. They look as if someone painted them with a tiny strip and a few dots of pure gold. Here's a closer look.
I'm checking on them all throughout each day for changes in hopes that I won't miss #1 and #2 flying away. At least I will have #3 if I miss the other two. It should be any day now!
**Update -- I can totally see the monarch's wing through the chrysalis this morning so it looks like today will be the day! I'm posting iphone pics on my instagram feed in real time (username is debduty). I'll post an update on my blog next week!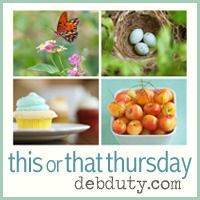 Time to link up again! There are just a few rules:
submit the url of your blog post, not your home page

link up a photo that was taken by you

include a link back to my blog in your post (you can use the button or a text link if you prefer)

visit a few other blogs and leave some comment love
Okay, now let's see what you've been shooting!