Something very exciting is happening in my backyard right now! You see, I planted a milkweed plant last summer in hopes of attracting monarch butterflies. Milkweeds are the only plant a monarch will lay her eggs on. When the tiny caterpillars hatch, they eat the leaves of the milkweed until they are ready to find a place to form a chrysalis and begin their transformation.
Last year we didn't find any caterpillars, but a few days ago I happened to look down and saw three monarch caterpillars on my milkweed! Hooray! I emailed my friend, Kim, who blogs at A Fresh Perspective because I know she has raised many monarchs in the past. She was so helpful and answered my many questions about how to care for the caterpillars.
She recommended a bug habitat that can be purchased at Wal-Mart. By the time I went to get it and got back home, two of the caterpillars were gone. So I put the third one in the box along with some leaves for him to munch on.
The caterpillars can crawl 20 to 30 feet to find a safe place to form their chrysalis. I was really hoping to find where the other two had gone so I told Mason I would give him $10 per chrysalis that he found. I didn't know it was going to be so easy! He found them both very quickly on the bottom of the brick window ledge that is near the milkweed. So we not only get to watch the one in the box, but also two under the ledge!
I'm sharing updates on instagram and I'll also share the whole process in a few weeks on my blog if all goes well.
For today, I have a few shots of all three of these beautiful caterpillars while they were still on the milkweed.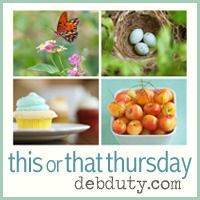 I really appreciate all of you who link up! I always enjoy going through the amazing photos you share. Now it's time to see what you've been shooting this week! Here are the rules.
submit the url of your blog post, not your home page

link up a photo that was taken by you

include a link back to my blog in your post (you can use the button or a text link if you prefer)

visit a few other blogs and leave some comment love
Okay, just link up below!