Watching these two butterflies emerge from their chrysalides last week was an absolutley amazing experience! I spent four or five hours sitting on the ground watching them and taking pictures before they flew away.
Here's a little recap of the metamorphosis that occurred right before my eyes...
First I noticed Wednesday evening that I could see the monarch's wing through the chrysalis so I knew it was close. (The pictures make the chrysalis appear bigger than it actually is. It's only about one inch long).
Early the next morning, the butterfly could clearly be seen through the chrysalis. You can refer back to last week's post to see what the chrysalis looked like a few days earlier and the week before that to see the caterpillars.
So then the little butterfly started pushing on the chrysalis until he freed himself.
He hung onto the chrysalis for about two hours while he was getting ready to fly. First his wings were a little crumpled.
Then they flattened out...
And finally, he was ready to spread his wings and fly. I was taking pictures with my iphone when he flew and landed right on the corner of it. So I grabbed my dslr and kept shooting!
He flew away right after this never to be seen again, but his friend was still getting ready to fly. When Mason offered his finger, she crawled on. As best I can tell, the one above is male because of the two black spots on the inner veins of his wings. But this one below appears to be female.
Mason gently placed her on one of our zinnias and she stayed around there until she was ready to fly away. I'm happy I get to cross one thing off my photography bucket list.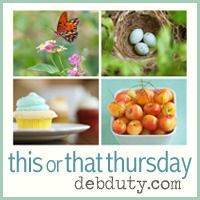 And now it's time to share your photos again! There are just a few rules.
submit the url of your blog post, not your home page

link up a photo that was taken by you

include a link back to my blog in your post (you can use the button or a text link if you prefer)

visit a few other blogs and leave some comment love
Okay, now just link up below!