Bryce Canyon National Park is amazing. It's a great place to go on vacation. We had such a fun time enjoying the scenery and hiking there. The views are stunning. It's really hard to do Bryce Canyon justice in photos, but I'll share a few anyway...
The red, orange and whitish rock formations are called hoodoos and offer spectacular views...
I have never seen such a gorgeous blue sky in all my life. Seriously, it was just so incredibly blue!
I took lots of pictures and Gary even took a picture this time too. I put the camera in green mode and it worked fine. It still feels weird that I'm so much shorter than my tall boys!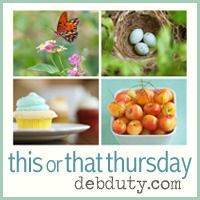 What have you been shooting? It's time to share again. Here are the rules.
submit the url of your blog post, not your home page

link up a photo that was taken by you

include a link back to my blog in your post (you can use the button or a text link if you prefer)

visit a few other blogs and leave some comment love
Okay, just link up below!