I have one more canyon to share with you. The last couple weeks I shared Bryce Canyon. This week it's Zion National Park which is also in Utah. The two canyons are very different. Bryce Canyon is at 8000 feet. Zion is at 4000. At Bryce you are at the top looking down into the gorgeous canyon views. At Zion you are on the floor of the canyon looking up at the red walls all around that jut toward the sky. So when you hike the trails at Bryce you hike down into the canyon and then back up. When you hike at Zion, you go up first and then back down.
They were both amazing places and I'm so happy we had the chance to experience them. It was worth the 26 hour drive. (seriously!)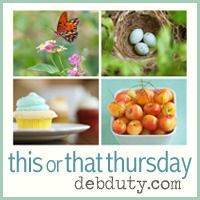 It's time to share your photos! There are just a few rules.
submit the url of your blog post, not your home page

link up a photo that was taken by you

include a link back to my blog in your post (you can use the button or a text link if you prefer)

visit a few other blogs and leave some comment love
Okay, just link up below!