Every year I take the same shots... my two boys standing by the front door on the first day of school. This year they are both in high school. Mason is in 9th and Alec is in 11th. Don't let the photos fool you. I think Mason's shoes have thicker heels or maybe it's that he's standing on the rug, but he's not taller than his big brother just yet! They were measured at their check up last week and Alec still has 1/4" on his younger brother.
And here's one from a long time ago. It was Mason's first day of kindergarten and Alec was in 2nd grade. These nine years sure have passed by fast.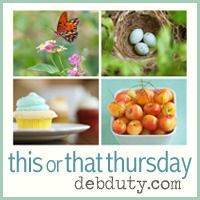 It's time to link up again to share your photos! There are just a few rules.
submit the url of your blog post, not your home page

link up a photo that was taken by you

include a link back to my blog in your post (you can use the button or a text link if you prefer)

visit a few other blogs and leave some comment love
Okay, just link up below!