Daisies are just the sweetest of flowers. These are a very small variety. I planted them in my beds this year and they survived! That means they are also low maintenance because that's the only kind of flower that survives under my care. Sorry I don't know their exact name, but if you're ever looking for them at the nursery, the bloom is about the size of a quarter.
*Just wanted to edit to thank everyone for all the kind words as Isaac came through yesterday. My family and I are fine and we were lucky to not lose power. We did see some impressive and sometimes scary wind yesterday and there are lots in my area without power, but everything should be back to normal before too long.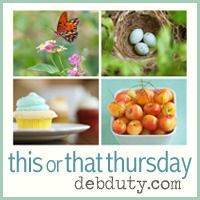 It's time to link up again! There are just a few rules.
submit the url of your blog post, not your home page

link up a photo that was taken by you

include a link back to my blog in your post (you can use the button or a text link if you prefer)

visit a few other blogs and leave some comment love
Okay, now let's see what you've been shooting!