Don't you love it when a butterfly is kind enough to wait around while you go inside, change your lens, and then come back? This one was very interested in my lantana so he stayed around long enough for me to get back and take a few shots too. According to
this website
which is a great resource for identifying butterflies and moths, he appears to be a long-tailed skipper.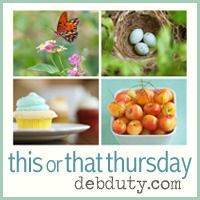 It's time to link up again! There are just a few rules.
submit the url of your blog post, not your home page

link up a photo that was taken by you

include a link back to my blog in your post (you can use the button or a text link if you prefer)

visit a few other blogs and leave some comment love
Okay, now let's see what you've been shooting!