I have a small vintage camera collection consisting of five cameras. All but one came from ebay. This one is the oldest and it's my favorite because it belonged to someone I knew, my husband's grandmother. She always enjoyed taking lots of pictures. This must have been her first camera. It is a box camera made by Metropolitan Industries in the 1930s when she would have been in her twenties. So you can see why this one is the most special to me.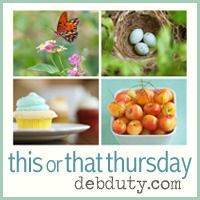 It's time to share what you've been shooting! There are just a few rules.
submit the url of your blog post, not your home page

link up a photo that was taken by you

include a link back to my blog in your post (you can use the button or a text link if you prefer)

visit a few other blogs and leave some comment love
Okay, just link up below!