Today will be the last This or That Thursday. I have so enjoyed seeing your beautiful photos each week and I appreciate all of you who have linked up over the last 16 months, but I've decided it's time for me to take a break from these weekly posts. I'm focused more on scrapbooking for now and less on blogging my photos. I'll still share photos, but rather than weekly, I'll be posting just when I have something I want to share. And of course I'll still be sharing my scrapbooking projects.
Thanks to all of you for an inspiring 16 months! Here's my shot today... taken with my iphone on my way home from California! I don't really enjoy flying and I avoid it when I can (for example, the 26 hour ride to Utah last summer!) But having the chance to see this beautiful earth from a different perspective is always an amazing sight...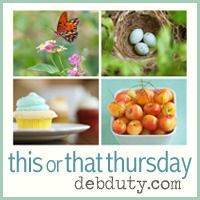 It's time to share your photos for the last time! We aren't even going to bother with any rules today. Just link up whatever you'd like!